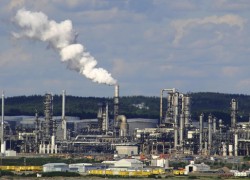 With crude oil stocks at high levels, consumers are wondering why gas prices continue to increase on a daily basis.  California saw a one day hike of 24 cents per gallon last week with no slowdown expected.  But reports of high crude oil stockpiles has most wondering why prices are up.
The refineries that produce gasoline have been hit hard by February's record cold weather in the United States, specifically in the Midwest states.  Combines with weather related problems, the refineries are also consumed with annual maintenance periods which also slow down the production of gasoline.   But two other factors are contributing to the gas production slowdowns besides maintenance and weather.  A facility in California exploded this month causing serious issues to the production facility while injuring three workers while workers at 11 refineries walked out on strike causing more delays in production.
The average price of regular gasoline 87 octane was reported at $2.19 per gallon for the week ending February 28, 2015.  This is a sharp increase from the previous weeks where prices dipped below $2 per gallon.
Despite the rise in prices, gas is cheaper than it has been in recent years.  This low pricing has spawned growth in SUV sales for auto dealers which had seen poor sales as gas prices hovered in the $3-$4 range.   Large trucks and SUV's had been on the decline in sales for almost ten years but rebounded strong in the last six months of 2014 due to lower prices at the pump.  But the savings might be short-lived with prices expected to rise over the next few months and years.  Experts warn consumers who are purchasing large vehicles which get poor fuel mileage to factor in a jump in gas prices when purchasing the vehicle.
Many people expect gas prices to once again rise in the next size to twelve months with the average at about $3.25 per gallon.  Some even predict that gasoline prices will once again reach the $4 per gallon within the next five years bringing U.S. consumers back to record levels of pricing.   Statistics show that in January 2009, gas prices were $1.85 per gallon and the price jumped up to $3.35 per gallon within just five years.