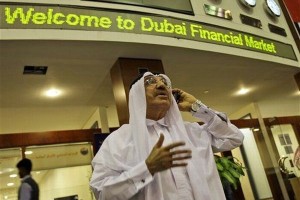 The shares of Dubai construction and building company Arabtec still dropped sharply on Tuesday as their price dropped by over 10% for the third consecutive session. After that the Dubai Stock Exchange collapsed with over 6%. This resulted in many aggressive sales of the stock market the emirate. The benchmark DFM deletes 6.68% to 4,009.01 points in afternoon trading in the Middle East. Furthermore Arabtec and many other components took down, including Union Properties, Drake and Scull and even exchange operator Dubai Financial Market.
Arabtec hit saga about the credibility of the entire market, says Arabian Business. Investors are likely to get their profits before the summer lull. Leading Dubai index is still nearly 19% up from the beginning of the year.
"Overall, the sentiment is still negative and auctions continue", said Julian Bruce, an expert at EFG-Hermes. Dramatic decline in the capitalization of Arabtec came after a series of bad news about the company. It all started from the major shareholder Aabar Investments, which shrunk its stake in the company from 21.57% to 18.85% in the period June 8 to 11 Subsequently, last week the CEO of the company Ismaik Hassan resigned, which led to a significant number of further departures and dismissals of employees.
By Arabtec indicated Tuesday that they fired a "small number" of employees to improve productivity and reduce costs. The company added that all its actions were aimed at protecting the rights of shareholders.
Most of the leavers were employed by Ismaik or perceived as close aides. But the move raises questions about whether the cuts will hamper the ambitious expansion plans of Arabtec, which include multibillion USD deals in the UAE, Egypt and other countries.