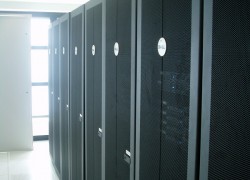 Apple Inc. released news about how the company is prepared to spend 1.7 billion euros on two new renewable data hubs located in Europe. These new hubs, to be built in Denmark and Ireland, will be powered exclusively by renewable energy.
The new sites will power the company's App Store, iTunes Store, Maps, iMessage and Siri for European customers. Apple's investment marks its biggest project in Europe in company history. The new project will create hundreds of new jobs for local residents.
The 1.7 billion euro investment will be split equally among the Ireland and Denmark sites. According to Apple, the centers will each be 166,000 square-meters. Operations are expected to begin in 2017.
Representatives from Ireland and Denmark were pleased with the news of Apple's investment, citing that the project will boost local economies. Apple has also said it will carry out local benefit schemes, such as an outdoor educational space for Irish schools. Denmark's data center will capture the heat from the facility's equipment and distribute it to local heating systems that will warm homes.
Apple's plans to open centers in Europe echoes moves from other U.S.-based companies, including Amazon and Google, to open European data centers. The moves come amidst concerns of the surveillance operations of the U.S. National Security Agency. Officials of the European Union state that the increase in U.S. companies investing in European data centers shows that Europe is becoming a safe haven for data. Meanwhile, lawmakers are pushing to form data protection laws.
At present, Apple has 18,300 employees in 19 European countries. The company also spent 7.8 billion euros on suppliers and companies in Europe, which helped support roughly 670,000 jobs.
The new data centers will be based in Denmark's Jutland region and Ireland's County Galway. Apple, who is focused on renewable energy, says the centers will have the lowest environmental impact of any of its data centers.