Gold Demand Drops 4% in 2014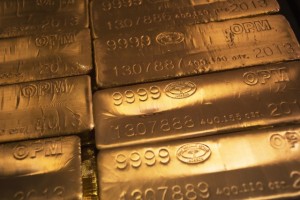 Worldwide gold demand fell with more than 4% in 2014, due to the decrease of two key markets - India and China, reports the World Gold Council in its latest report on trends in the market of precious metal. Total demand last year amounted to 3,924 tons against 4,088 tons last year (-4%). However, demand for gold rises at the end of the year. In the fourth quarter demand rose by 6% yoy to 988 tons.
The market is still recovering from the second quarter of 2014, employment was the largest annual decline in the gold price in 30 years. While recovery of the US economy and the dollar made the precious metal more expensive for investors who buy in other currencies. India and China are the biggest consumers of gold and together account for nearly half of the demand for gold in the world. But purchases were slightly last year. In India, they fell by 14% to 843 tons, and China - by 38 per cent to 814 tonnes.
However, there are differences by category. Demand for jewelry, which account for nearly 65% of total demand decreased by 10% per year in India increased by 19%, while in China fell by nearly a third. According to the World Gold Council surge in consumption in 2013 is low demand, which explains the trend in 2014. The organization expected that in 2015 demand from India and China will grow to nearly 900 and 1,000 tons, respectively. Among the leading economies demand only in the UK and France increased in 2014 - by 18% and 16%, respectively.
Meanwhile the central banks have made net purchases of 477 tons in 2014. This is 17% more than in 2013 The most purchases committed Central Bank of Russia, followed by those of Iraq and Kazakhstan. According to the World Gold Council trend of demand for the precious metal as a haven asset by developing economies to protect against unforeseen economic shocks continues. After a tough year, Ukraine has sold nearly 19 tons of gold reserves. This is a decline of 44%.
Mining, recycling and production of gold, which form part of its supply shrink by 2% per year to 1,091 tons from 1,113 tons in 2013. Mining production reached a record 3,114 tons, up by 2% per year.