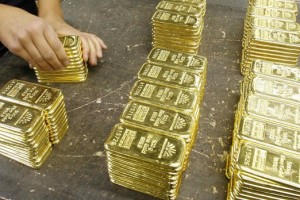 Gold closed last week with a fall, thus terminating two consecutive weeks on the rise. The reason for the retreat became another strong economic data limited demand for the metal as a hedge against risk. Gold with delivery in December fell by 0.8% during the week, closing Friday's session on Wall Street 1,231.20 USD per ounce. The contracts reached a weekly high of 1,255.60 USD per ounce on Tuesday, and the lowest point of 1,226.40 USD per ounce on Thursday came a day after better than expected US data calmed markets for the economy as a whole. The precious metals started the week steady, adding 0.70% respectively, and 0.56% on Monday and Tuesday. However, Wednesday and Thursday brought a decline of 0.50% and 1.24%. On Friday, the gold partially correct earlier losses, closing with a slight increase of 0.17%.
The weekly labor data showed that new applications for unemployment benefits in the US have remained below 300,000 for the sixth consecutive week. The news was seen as a signal that the labor market ignores the panic about the renewed crisis in the global economy. The strength of the USD also contributed to the decline in the price of gold. The USD index ICE - measure tracking the strength of the greenback against a basket of six major currencies, rose to 84.95 points from 85.78 points on Monday. US currency and gold inversely correlated.
Looking ahead, the next major focus to gold investors is aimed at the upcoming meeting of the US Federal Reserve this week. The market consensus is that the central bank will decide to end its purchases of assets and is likely to give a signal when a gradual rise in interest rates.