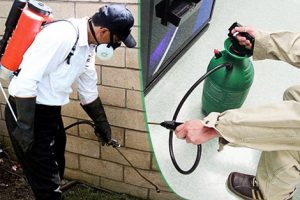 New York, February 16: Market Research Engine has published a new report titled as "Pest Control Services Market By Application, By Services and By End Users - Global Industry Analysis and Forecast 2016 - 2026".
How Big is the Global Pest Control Services Market?
The global pest control services market is expected to exceed US$ 22 Billion by 2026, Growing at CAGR of more than 5.0% in the given forecast period.
Browse Full Report: https://www.marketresearchengine.com/reportdetails/pest-control-services-market
Pest control is a method for management and regulation of different living organism which are dangerous and harmful for human being. Pests such as cockroaches, bedbugs, termites, some reptiles and unwanted organisms affects daily life and hinder person action by interfering in residential, agriculture, industrial and commercial processes.  Pest control services are carried out to remove pests and guarantee health and hygiene lifestyle. Pest control management will be done with the help of different techniques such as mechanical control, chemical control and pest control. The Pest Control Services production includes firms which are involved in the qualified management of pests, rodents, termites and other species which will cause health issue and are dangerous to environment.
The major driving factors of pest control services market are as follows:
•    Growing pest population
•    Increasing customer alertness relating to health and hygiene
•    Easy accessibility of pest control service providers
•    Growing economic activity
Request A Sample Report: https://www.marketresearchengine.com/requestsample/pest-control-services-market
The restraints factors of pest control services market are as follows:
•    Pricing pressure
The pest control services market is segmented on the lines of its application, end user, services and regional. Based on application segmentation it covers cockroaches control, ants control, termites control, bedbug control, rat and rodent control, beetle control, mosquito and flies control, bird control and others such as home lizards, moths mites and reptiles. Under end user segmentation it covers agricultural, industrial, commercial and residential end user. Based on service segmentation it covers chemical control service, mechanical control services and other pest control services such as moisture control, sanitation. Chemical control service is further segmented into organic control services and synthetic control services. The pest control services market's geographic segmentation covers various regions such as North America, Europe, Asia Pacific, Latin America, Middle East and Africa. Each geographic market is further segmented to provide market revenue for select countries such as the U.S., Canada, U.K. Germany, China, Japan, India, Brazil, and GCC countries.

This report provides:
1)    An overview of the global market for pest control services and related technologies.
2)    Analyses of global market trends, with data from 2013, estimates for 2014 and 2015, and projections of compound annual growth rates (CAGRs) through 2026.
3)    Identifications of new market opportunities and targeted promotional plans for pest control services.
4)    Discussion of research and development, and the demand for new products and new applications.
5)    Comprehensive company profiles of major players in the industry.
REPORT SCOPE: 
The scope of the report includes a detailed study of global and regional markets for various types Pest Control Services Market for variations in the growth of the industry in certain regions.
The report covers detailed competitive outlook including the market share and company profiles of the key participants operating in the global market. Key players profiled in the report include Ecolab, Inc., Rollins, Inc., Rentokil Initial Plc., Service Master Global Holdings, Inc. (Terminix), Massey Services Inc., Arrow Exterminators Inc., Sanix Incorporated, Asante Inc. and Dodson Brothers Exterminating Company Incorporated. Company profile includes assign such as company summary, financial summary, business strategy and planning, SWOT analysis and current developments.
The Top Companies Report is intended to provide our buyers with a snapshot of the industry's most influential players.
The Pest control services Market has been segmented as below:
By Application Analysis
•    Cockroaches Control
•    Ants Control
•    Termites Control
•    Bedbug Control
•    Rat & Rodent Control
•    Beetle Control
•    Mosquito & Flies Control
•    Bird Control
•    Others (Home Lizards, Moths Mites and Reptiles)
By End-user Analysis:
•    Industrial
•    Agricultural
•    Commercial
•    Residential
By Services Analysis:
•    Chemical Control Services
o    Organic Control Services
o    Synthetic Control Services
•    Mechanical Control Services (Traps, Repeller, etc.)
•    Other Pest Control Services (Moisture Control, Sanitation, etc.)
By Regional Analysis
North America
Europe
Asia-Pacific
Rest of the World
Reasons to Buy this Report: 
1) Obtain the most up to date information available on all pest control services market.
2) Identify growth segments and opportunities in the industry.
3) Facilitate decision making on the basis of strong historic and forecast of pest control services data.
4) Assess your competitor's refining portfolio and its evolution.
About MarketResearchEngine
Market Research Engine is a global market research and consulting organization. We provide market intelligence in emerging, niche technologies and markets. Our market analysis powered by rigorous methodology and quality metrics provide information and forecasts across emerging markets, emerging technologies and emerging business models. Our deep focus on industry verticals and country reports help our clients to identify opportunities and develop business strategies.
Media Contact
Contact Person: John Bay
Email: [email protected]
Phone: +1-855-984-1862
Country: United States
Website: www.marketresearchengine.com