Nestle SA Chief Executive Officer Mark Schneider previously transformed a sleepy German hospital operator into a stock-market darling via more than 30 acquisitions. Now he wants to return to dealmaking at his new employer — where the challenges are bigger.
The world's largest food and beverage company was contending with the slowest sales growth in a decade when activist investor Dan Loeb revealed a $3.5 billion stake this week, demanding asset sales and higher shareholder returns. The 51-year-old Schneider, the first outsider to run the maker of Maggi bouillon cubes and Buitoni pasta dishes in almost a century, shot back that he's looking for businesses to buy.
"He has a reputation as somebody who does make a difference and drive change," said Fintan Ryan, an analyst at Berenberg. "The Nestle organization maybe is a slower-moving beast than what he's used to given the scale, but he's ambitious to make his mark on the company."
With cash of about $10 billion and a $27 billion stake in L'Oreal SA, Nestle could make an all-cash offer for a company the size of General Mills Inc. without having to borrow a cent. Even before Loeb disclosed his stake, Schneider initiated a review of the Swiss giant's U.S. confectionery business. Afterward, the company announced a $21 billion share buyback that boosted the stock price, giving Schneider even more ammunition.
Nestle shares have gained 2.2 percent this week and set a record on Monday. The company has a market value of 261 billion francs ($272 billion), the biggest in Europe.
Hospital Deals
Schneider led 32 takeovers over 13 years at Fresenius SE, transforming it into Europe's largest operator of private health clinics and generating a 1200 percent return for investors. While his most ambitious bid - to buy Germany's Rhoen-Klinikum AG for $4.9 billion — failed in 2012 because of opposition from competitors, Schneider managed to ultimately engineer a coup by forging a separate deal to buy 43 hospitals from Rhoen.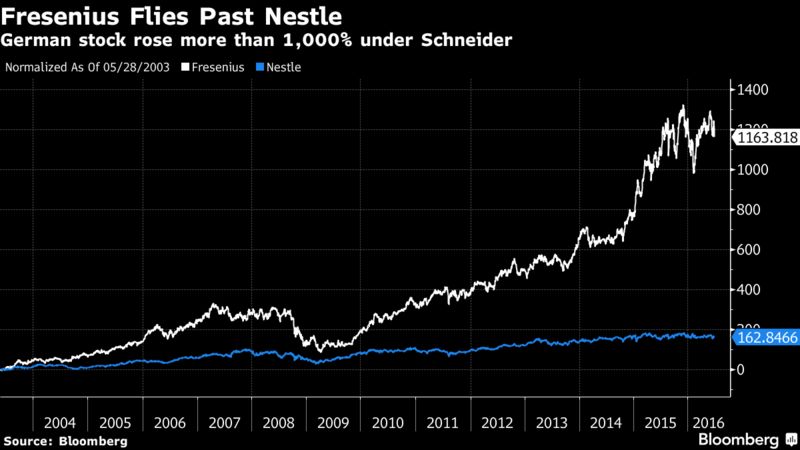 Because Nestle is the largest global player in coffee, infant formula, bottled water and pet food, any purchase could raise the ire of antitrust regulators. On an analyst call in February, Schneider cautioned that prices of potential acquisition targets were too high. His flexible approach to dealmaking at Fresenius, where he took over as CEO at age 37, suggests that he'll try to find creative ways around obstacles that could limit Nestle's dealmaking scope.
"Nestle does need acquisitions," said Urs Beck, a fund manager at EFG Asset Management in Zurich, but "its size and success make that more difficult. I expect relatively smaller acquisitions, and for Schneider to have a less go-getter attitude than at Fresenius."
Schneider has said he sees medical nutrition as a growth area for Nestle, which declined to comment on his plans. In 2014, Nestle and Fresenius each talked to Danone SA about buying the French company's business in that field, people familiar with the matter said at the time. A deal could have fetched more than 3 billion euros ($3.4 billion). Vontobel analyst Jean-Philippe Bertschy said it would make sense for Schneider to seek to buy that unit again, this time with more firepower from Nestle.
Jon Cox, an analyst at Kepler Cheuvreux, said another takeover option would be Fresenius's clinical nutrition unit. Cox doesn't exclude even bigger acquisitions, such as the nutrition business of Abbott Laboratories, which he estimates could fetch $34 billion, or a full takeover of Danone, which he says would cost some 66 billion euros and expand Nestle in three of its priority areas: bottled water, medical nutrition and infant formula, probably requiring antitrust concessions.
BabyRuth, Butterfinger
In his first six months as Nestle CEO, Schneider has already slain some sacred cows by moving the U.S. headquarters from Glendale, California, to Arlington, Virginia, floating a sale of U.S. chocolate brands like BabyRuth and Butterfinger and accelerating restructuring.
In announcing Nestle's buyback two days after Loeb revealed his stake, Schneider left Loeb's other demands unaddressed for the most part. Nestle said it'll allow its debt to edge up to 1.5 times earnings before interest, taxes, depreciation and amortization, still short of Loeb's demand for at least 2 times. And the company added a caveat that it may trim its share repurchases if it finds a big acquisition.
"We have little doubt change is taking place at Nestle for the better behind the scenes," wrote Alex Smith, an analyst at Barclays. Still, "we remain wary of escalating expectations over the magnitude."
German consultancy Roland Berger named Schneider manager of the year in 2013. His first experience in M&A was at Franz Haniel & Cie., a German family-owned investment company. Schneider, who goes by his second name rather than his first, which is Ulf, prefers to be the first point of contact in negotiations, Germany's Manager Magazin said in a profile last year. He spent five years calling the founder of Rhoen Klinikum by phone before making a bid in 2012, it said, adding that he took economy-class flights at Fresenius and ate at the cafeteria with other employees.
L'Oreal Stake
Tom Russo, who has held Nestle shares for three decades at Gardner Russo & Gardner, said Nestle needs to keep its options open as changing consumer tastes and deals like Amazon.com Inc.'s planned purchase of Whole Foods Market Inc. upend the industry. That means resisting activists' calls to monetize the L'Oreal stake and shifting cash to shareholders too quickly, he said.
"We're entering totally new territory in the food and beverage industry," Russo said. "That requires money. They have to be guarded if they want to preserve their position as a leader 20 years from now.
Source:https://finance.yahoo.com/m/c40dcf4a-3d0d-3a5a-80d9-f4077f688f5b/nestle%E2%80%99s-new-ceo-to-show-off.html