Gold futures grew but remain under 1,300 USD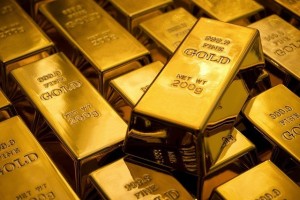 The price of gold rose to its highest level in more than four months on Friday amid turmoil in the foreign exchange market after the decision of the Swiss Central Bank to remove the ceiling against the EUR. The Gold futures with February delivery reached a maximum of value of 1,292.40 USD per ounce for the last session, which is the highest level since 2nd September 2014. Finally the gold futures price settled at 1,276.90 USD per ounce, adding 0.96%. A day earlier, the gold jumped with 2.45% to close at 1,264.80 USD per ounce. For the week, the yellow metal rose by 4.76%, taking into account the second consecutive weekly increase.
Meanwhile, silver futures for March delivery jumped 3.79% on Friday to settle at 17.75 USD per ounce at the end of trading. The level was the highest since 24th September 2014. In this way the silver futures with March delivery added 7.54% for the week, taking into account also the second straight weekly growth.
The prices of precious metals rose after Thursday Swiss Central Bank removed the minimum exchange rate of 1.20 CHF per EUR, introduced in September 2011. The central bank also cut more negative interest on overnight deposits from -0.25% to -0.75%, which is a move designed to discourage investors to buy CHF.
The EUR fell to a record low of 0.8696 CHF on Thursday and ended the week with a loss of over 17%. The pair USD/CHF tumbled to 0.7360, which is the lowest level since August 2011, and ended the week with a loss of almost 15%.
Gold is often seen as an alternative currency and refuge in times of global economic uncertainty. The Continuing speculation what will be the action of the European Central Bank after its meeting on 22nd January 2015. A possible reduction in interest rates and providing additional incentives are likely to further support the precious metals.
Meanwhile, the dollar index ICE, which measures the strength of the greenback against a basket of six major currencies, ce rose 0.57% to 93.05 points, taking into account their fifth straight week of growth.
One of the main reasons are the differences in monetary policies in the US and Europe. Meanwhile the ECB will likely continue to loosen monetary conditions in Europe, the Fed still wondering when to take the first rise in rates after the crisis of 2008 is expected institution to resort to people in the middle of 2015.