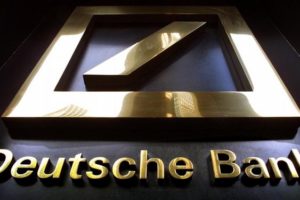 The European biggest investment bank Deutsche Bank AG, reported a sharp decrease in profit trends for the first fiscal quarter of 2014 after the retreat to trade in debt securities. The net profit of the lender declined by 34% yoy to 1.08 billion EUR in Q1 2014. The achieved level still exceeds the market sentiment for a result of 1.01 billion EUR.
The Frankfurt-based company also reported that its revenue from the trading fixed assets, currencies and commodities, fell with 10% to 2.430 billion EUR, beating the average score of analysts for 2.12 billion EUR.
Deutsche Bank is one of the investment banks that felt most serious decline in the global investment amid the uncertainty about the monetary policy and geopolitical crisis in Eastern Europe. In recent months, the German lender faced numerous calls from investors to raise its capital by selling shares after earnings remain still under pressure from the shrinking balance made ​​in order to meet more stringent regulatory rules.
The bank announced that the ratio of Tier I capital (Tier 1 Capital) under the rules of Basel III, has given way to 9.5% from 9.7% at the end of December 2013. The reason for this is the increased risk assets. The level is the lowest among the nine biggest investment banks in Europe.
Late last week was revealed that Deutsche Bank may be heading for a major share issue to raise capital before the stress test of the European Central Bank and the European Banking Authority. The largest investment bank in Europe could sell shares for 5 billion EUR. The transaction is expected in June or later in the year. Earlier this month the German Deutsche Bank AG announced that it is ready to cut bonuses in the future to meet the regulatory requirements for the ceiling of remuneration.