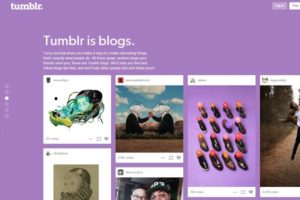 Tumblr is fastest growing social network, as for the last 6 months increased by 120% its active users. For comparison the largest social network with over 1.35 billion monthly active users - Facebook, grew with only 2%. At the first place for general increase in the number of users stands Pinterest with 57%, while Facebook still ranked ahead by 6%. Instagram, LinkedIn, Twitter, YouTube and Google+ recorded faster growth than Facebook.
The most popular mobile application remains Facebook, and Snapchat is the fastest growing with its 56% growth. However, it is followed closely by Facebook Messenger and Instagram. This is a sign of how mobile applications on Facebook continue to be the main engine of growth of the company, but also a way to boost development by separating personal messages from the main use of the social network.
Facebook is trying to focus more on smaller applications to maintain the pace of growth, amid downward trend noticeable in the main application. Moreover, according to a study people become tired of Facebook and 50% of consumers in the US and Britain claim to have used it less frequently than before. This statistic shows how people use Facebook more passive now than before.
Among those who have accounts at Facebook, every second argues that actively use social network every month. Facebook and Twitter now earn more from mobile ads than those for desktops. Mobile devices are leading in this respect when it comes to social networking. But overall they have surpassed the use of desktops and laptops.
Although the use of large screens becoming increasingly rare, six out of ten people still use Facebook in a desktop computer. Four in ten people enter the social network via mobile devices. The younger consumers are, the more preferred among them are mobile. In the age group of 16 to 34 year olds, over 50% of people use social networks through mobile devices.
Although Tumblr and Pinterest have the greatest growth in the number of users, they are not as commonly used as Facebook, the study reveals. China continues to dominate the local social networks.