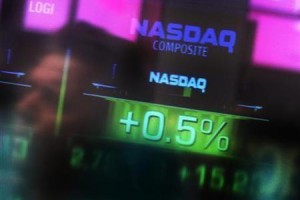 The Wall Street indexes started the week with increases. The positive attitudes after the agreement between Russia, Ukraine and the Red Cross for relief the convoys support the technologically oriented benchmark Nasdaq Composite grew at 14-year maximum and rose with 0.94% to 4,506.76 points. The blue chip index Dow Jones Industrial Average added 1.03% to 16,833.89 points, while S&P 500 expanded with 0.82% to 1,971.17 points.
The Russian Foreign Minister Sergei Lavrov announced that was reached an agreement with Ukraine and the International Red Cross for the route of the Russian convoy with humanitarian aid to eastern Ukraine. Lavrov announced the news a day after his meeting with the foreign ministers of Ukraine, Germany and France. The convoy with humanitarian aid from Russia to Eastern Ukraine is still on Russian territory, but close to the border with Ukraine. In his words, still there is no progress on the ceasefire and political negotiations and urged USA to get involved in trying to reach an agreement.
The news shows some degree of cooperation that can be more constructive environment for global and local shares. According to the analysts the meeting of the US Federal Reserve in mid-September is the next really big event for the capital markets. Meanwhile, the US stocks rebounded after the markets probably believe that slowing global economic growth will keep interest rates low for some time
The National Association of Home Builders in USA reported that the index of confidence of the industry in July rose by 2 points to 55 points, which exceeded market forecasts. Sensata Technologies Holding announced that it would pay 1 billion USD for the acquisition of the group of companies under the umbrella of Schrader. After the release of this news the shares of Sensata rose with 5.76%
The capitalization of Dollar General rose with 11.51%. Earlier in the day the retailer offered 9.7 billion USD for the acquisition of a competitor Family Dollar, rising further its previous offer of July Shares of Family Dollar rose with 5.04%.
The USD gained a foothold against the currencies of major trading partners of USA. The yields on 10-year American bonds even rose 4 basis points to 2.389%. The contracts on gold with December delivery fell with 0.52% to 1,299.40 USD per ounce. The crude oil prices with delivery in December fell by 1.55% to 93.84 USD per barrel.