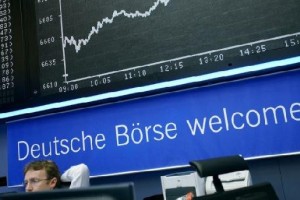 The European markets took a break from the positive movement in the last six sessions, which had sent the leading Stoxx Europe 600 index to its highest value for the last seven years. The focus of investors today focused on enterprise data. The broad benchmark reported a decline of 0.13% to a level of 386.76 points after companies from the areas of energy, consumer goods, financial services and communications, part of the index ended the session with a fall in its share price.
The most serious cuts, however recorded Greek banks, part of the Stoxx Europe - Piraeus Bank and National Bank of Greece. Although the Eurogroup to give approval of extension of the loan to Greece, the media in Europe, doubts that German lawmakers will not support this request. This caused a distrust of investors in bank shares. The shares of Piraeus lost a little over 13% of its value and closed the trading price of 0.64 EUR per share. NBG for the decrease is within 11% to 1.49 EUR per share.
Meanwhile, shares of Moller-Maersk rose more than 9% to 15,260 DKK per share, after the company said it would sell its 20% in Danish bank Danske Bank. The German DAX 30, however, still green series, although today its growth is the minimum level of 0.04% to 11,210.27 points. Session one of the leading indices on the London Stock Exchange - FTSE 100 ended in red and he retreated from its highest closing level since December 1999, reached Tuesday. Index lost 0.21% of its value and closed at 6,935.38 points. French SAS40 recording a decline of 0.09% to 4,882.22 points.