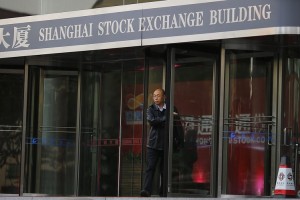 Chinese shares tumbled on Monday due to sharp sell-offs in the financial sector. The positive performance on Wall Street late last week did support the growth rates of other Asian markets. The main Shanghai Composite Index fell with over 7%, led by declines in most financial shares fell by the maximum of 10%. The reason was that regulators have accused local brokers in illegal activities in margin trading. Losses came a day before the release of data for China's economic growth in the fourth quarter. Sitic Securities, Haitong Securities and Everbright Securities were just some of the companies that erased 10% due to the repression of the authorities in relation to the margin lending.
It was a bloodbath for Chinese stocks. Although this is a blow to the shares in the short term, attitudes seem positive, as officials continue to carry out reforms and to limit excessive speculation, commented analysts.
In Hong Kong Hang Seng cpadna c nearly 2%, a China Enterprises index wiped more than 5%.
The Japanese benchmark Nikkei 225 index closed above 17,000 points, recovering from the loss of almost 1% on Friday. Among the biggest winners were Sony and Itochu, added more than 2%. Sharp wiped almost 9% after the Nikkei newspaper reported that the company can provide a net loss of "billions of JPY" for the current financial year.
The AUstralian benchmark S&P ASX 200 terminate five straight sessions of losses, moving away from one-month low of 5,299 points on Friday. The mining companies performed strongly after the appreciation of copper. Oz Minerals and Sandfire Resources added respectively 8% and 7%. Macquarie expand by more than 5% after predicting 10-20% growth in annual profit.
South Korean KOSPI returned to growth after a loss of 1% on Friday, boosted by increases in manufacturers of ships. Hyundai Heavy Industries and Daewoo Shipbuilding rose by 9%.