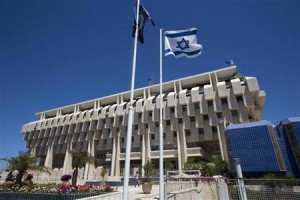 Bank of Israel decreased main interest rate with 0.15 percentage points to a record low of 0.10% to fight persistently low consumer prices. The base interest rate of Israel was at the level of 0.25% since September. While some analysts expect a decrease of interest in the coming months, the market consensus was that the bank will leave unchanged the level in March. The surprising move comes amid declines in interest rates in Asia and the program of quantitative easing from the European Central Bank. After the news, the dollar rose 1.4 percent to 3.91 shekels.
Central Bank of Israel officially announced that it took the decision because of the continuing decline in consumer prices, the appreciation of the local currency – Sheqel, and lower interest rates globally. The bank said that after the decline in consumer prices in January by 0.9% monthly and 0.5% yearly inflation expectations remain below the target range of Government of between 1% and 3% annual inflation. The decline in consumer prices was mainly due to lower energy prices.
Although Israeli New Sheqel depreciated against the US dollar at the end of 2014, he again began to gain momentum in January – something that the bank may weigh on growth in the export sector, and more expensive imports.