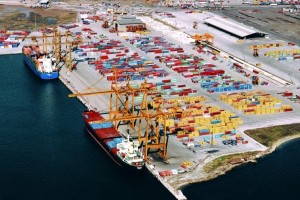 The new Greek government has not discussed plans to privatize the two largest ports in the country – in Piraeus and Thessaloniki, a spokesman for the Cabinet to Greek television on Wednesday.
"We do not discuss any further sale or privatization of the port of Piraeus or Thessaloniki", said Gabriel Sakelaridis. The move is a big blow to the Chinese company Cosco, which manages two of the piers in Piraeus with a total length of 1.4 km and land area of 180,000 square meters. The port provide services to more than 24,000 cruise and cargo ships every year. The Chinese company Cosco was the main contender to acquire major share of 67% of the company. Beijing plans to turn Greece into a leading logistics portal for Chinese exports to southern countries of the European Union and its largest trading partner on the continent.
In the beginning of the mandate of the new Greek government the Economy Minister George Stathakis attacked the shipowners for tax evasion. Greeks run 43% of European fleet and many of the companies and cargo ships are registered in offshore or other kind of no tax zones. While Greek shipping magnates generally operate from the Athens suburbs or the port of Piraeus, their companies are largely registered in the likes of the Marshall Islands and the Turks & Caicos. The firms are often listed on stock exchanges abroad and their ships often fly foreign flags such as Liberia.
Greece managed to collect only 3.1 billion USD from privatization after being rescued by the the Three creditors (EU, ECB and IMF) five years ago. The amount is significantly less than the original target of about 22 billion EUR. Athens had to privatize various companies and projects in return for financial assistance from international donors. Recently, however, the authorities announced that they terminated their cooperation with the Three creditors.