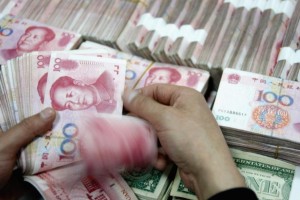 The CNY fell after the central bank contracted the limit of the exchange rate of the local currency against the USD after the export of the country unexpectedly shrank in February. The Chinese central bank lowered the reference rate of the CNY with 0.18% to 6.1312 CNY per USD. In the absolute terms, the reduction in the rate is the highest since July 2012.
The negative movement of the Chinese currency is determined by the data of the trade balance. The exports declined by 18.1% yoy in February, which was the biggest decline since 2009. The imports rose 10.1% from a year earlier and the trade deficit became the biggest in two years. The inflation in China also slowed to 2% yoy.
The experts commented that the reduction in the daily rate of the CNY is significantly and comes along with poor data on the trade balance. This suggests a possible political intervention to weaken the CNY to the benefit of exporters. This on the other hand would mean the increase of the risks. The movements in the CNY are less volatile compared with the money of other developing countries, and the implementation of the bilateral exchange rate corridor is definitely good for market development, said the deputy governor of the Bank of China and the Gan.
Since the beginning of the year, the CNY has lost 1.5% of its value against the USD. In this way the currency has the third worst performer among the 12 most traded currency pairs in Asia.