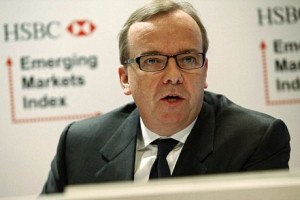 The CEO of HSBC has account of 5 million GBP in Swiss branch of the bank, where hold his bonuses. In response to a question from The Guardian Bank pointed out that Stuart Gulliver has 5 million GBP in the account that controls using a Panamanian company. By HSBC highlighted, however, that the CEO lives in Hong Kong, pay taxes there and owes nothing to the British Treasury. The statement did not mention Panamanian company. The details of the account of Gulliver came the same day that HSBC publishes its annual results.
The article in The Guardian does not indicate any wrongdoing on the part of Gulliver, but the news lead to more questions about the activities of HSBC in business consulting. Earlier this month British bank acknowledged gaps in its Swiss subsidiary in response to media reports that the company has helped wealthy clients hide assets and taxes for millions of dollars.
"We recognize and acknowledge the problems with compliance control", indicated by HSBC, after influential media, including the French newspaper Le Monde and The Guardian, published materials on its Swiss subsidiary. British newspaper cited documents from the International Consortium of Investigative Journalists by Le Monde. By HSBC said in response that its Swiss unit has not been fully integrated after buying it in 1999, allowing the observance of "significantly lower" standards.
The documents showed that 74 related to Bulgaria persons hold accounts in the Swiss branch of British bank. According to 11 percent of the 74 associated with our country people have Bulgarian citizenship, or about eight. The information was disseminated by the International Consortium of Investigative Journalists – an association that includes independent journalists from 45 countries. The organization started a few days to export data from a major investigation codenamed Swissleaks, conducted jointly with the French daily Le Monde. Site of the consortium were published data on more than 106,000 customers in 203 countries evade taxes for deposits worth over 100 billion USD in accounts in HSBC.