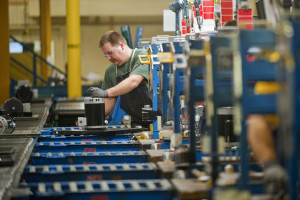 The business activity in Eurozone rose in February, showed the preliminary data of Markit Economics, published on Friday. The news is a sign that the region's economy is improving slightly, while politicians struggle with the dual threat of falling prices and renewed uncertainty about the future of Greece in the Eurozone. The index of purchasing managers for the currency bloc rose to 53.5 points in February from 52.6 points a month earlier. The achieved level is the highest in the last seven months. All values ​​above 50 indicate expansion of business.
The economic growth is increasingly necessary and is likely to receive a further boost in the coming months. The prices of goods and services, however, continue to fall, highlighting the challenge to the European Central Bank (ECB) in its efforts to accelerate the annual inflation in the euro area back to its target of just below 2%. The inflation in the block slowed to 0.6% yoy in January, prompting the ECB to announce the beginning of the program of quantitative easing from May.
Eurozone finance ministers meet in Brussels on Friday for a new attempt to end the impasse between the new far-left government of Greece and its creditors from the Eurozone. Athens holds a position that requires termination of austerity imposed as a condition of the hundreds of billions of EUR in aid. Led Germany creditors, however, are adamant that Greece should press ahead with much needed reforms to revive its economy problem.
Immediately after the presentation of the one EUR was exchanged for 1.1319 USD.