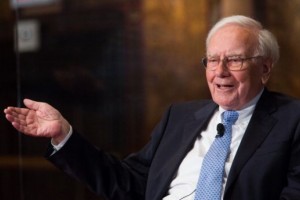 In spite of the fact that Warren Buffett is well known investor with propensity to invest in alternative financial instruments and risk assets, the financier cannot be be defined as a supporter of the new market phenomenon crypto-currencies and in particular Bitcoin.
In his interview the CEO of Berkshire Hathaway analyzes many of the current issues – from the crisis in the Crimea to the digital money. He commented the Bitcoin in a curious context. According to Warren Buffett the Bitcoin is not even a currency and he will not be surprised it it disappear in the next 10-20 years. The investor said that in tough times it is important for the companies to maintain their stocks, not their capital. Buffett also recalled that he made his first investment in 1942, when the war in the Pacific was not very well doe the USA.
"The USD will be cheaper, so that money will not buy much. It will be much better if the US companies have production assets over the next 50 years than if kept pieces of paper or even worse – Bitcoins", commented laconically the investor
Warren Buffett also said that the price of Bitcoin is not real and that crypto-currency is just not durable for exchange.
Meanwhile, the recent severe shocks on the Bitcoin market due to the problem with Mt Gox were apparently overcome. According to the report prepared by CoinDesk the Bitcoin Price Index the value of the asset recorded level of 662.52 USD compared with 518.45 USD a week earlier.